Imagine seeing giddy clowns walking down chic fashion runways. Will you believe that such event is possible to happen? Of course, many would think that this is too unrealistic to achieve. But the lively month of April just screams out fun, - we can't help but to goof along! With high-end fashion becoming a common trend, girls can embrace April with these fun outfits and still look flawless.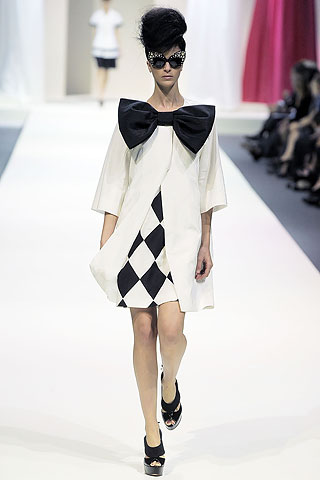 One element that makes this outfit simply wacky is the humongous bow attached to her dress. Her glasses show a small hint of craziness, yet it is still up to class. The dress blocks the checkered pattern and the plain white so ideally. To add to the final touch, the shoes fit in perfectly with the rest of the outfit.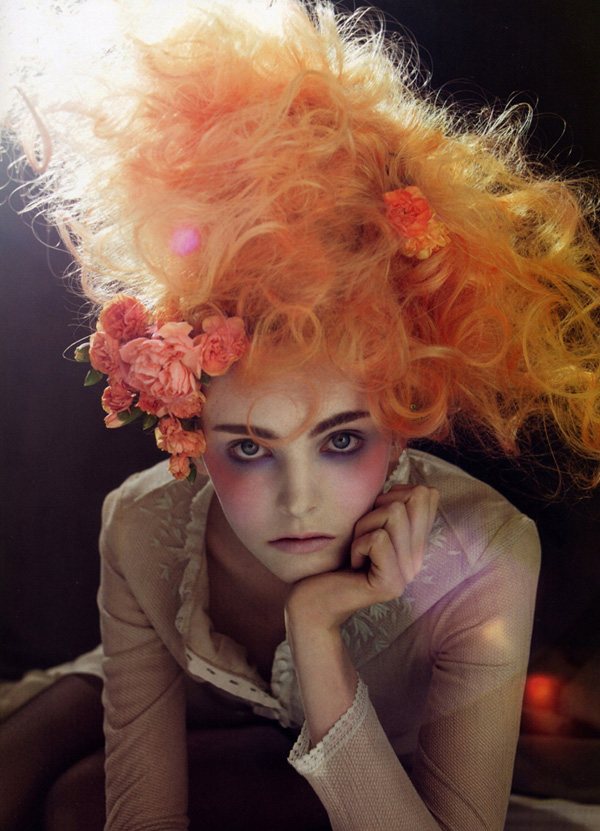 Her clown hair do is styled to be fashionable with the natural ginger hair. What a Weasley! The flowers in her afro give a soft touch to her mad exterior. With the pale face tone and obvious tints, her makeup clearly gives off the impression of a clown. This is paired with a simple top, so it does not seem too overboard.
Here, the model is adorned in the traditional clown collar, with bold glitterings hat draws attention to the whole outfit. The unique fabrics used really fit with each other and creates and extraordinary look. Her headpiece is also similar to the cotton balls on clown suits, surprise surprise!
The outfit on the model will remind you one of a circus carousel. The dress fits with the prop, both keeping it under a wonderful colour scheme. The sleeves on her dress are a standout. Her headpiece also uniquely fits the entire costume, and monochromatic shoes that dims the tone to a darker shade.
This outfit really embraces the flamboyance of clowns. The blobs of colour everywhere show the true natures, - or shall we say, true colours! - of a clown. Her headpiece is just as quirky as the personality. Yet again, a modern twist of a lacey touch makes it chic. The colour combination is also balanced to give attention to her bold blue shoes.
There you have it, - clowns cladded in class! Sometimes, silly looks can turn to stylish do's when you are bold enough to have a little mix in your life. We here at SPARKS hope to see this kind of fashion uprising worldwide, having runway shows dedicated to this perky style.
-Compiled by Namrata Gopwani and Maryam Soraya.